Brought to us by the ex-EA developers at Studio Drydock, Wylde Flowers is a heartwarming farm sim where you join Tara as she moves to the familiar island of Fairhaven to make up for lost time with her grandmother.
While adjusting to rural island life and making new friends, Tara discovers a family secret—witchcraft! In this enchanting video game, you can expect to interact with wonderful characters, tend to crops, cook delicious foods, find romance, and practice your newly-discovered ✨magic.
Think Stardew Valley—but with witches.
Studio Drydock plans on launching the full release of Wyle Flowers to Steam and Nintendo in 2022.
But guess what? 👀
We got an early access look at the Wylde Flowers demo. And we'd love to tell you ALL about this addition to our cozy video gaming collection. 👏
5 Reasons Why We're Excited For Wylde Flowers
After playing through the demo for Wylde Flowers, there are many reasons to be excited for the eventual full release of the game in later 2022. From its wholesome atmosphere to excellent voice acting, we were pleasantly surprised by this witchy take on farm life simulation.
1. Adorable Graphics and UI
The first thing you'll notice when playing Wylde Flowers is its adorable graphics. Its cartoonish, colorful style takes you back to the simple days of playing video games as kids, without making us feel bored. Also, we'd like to point out that Tara's clothing style embodies the edgy✨Starbucks girl✨ look, and we love it.
The user interface is also super easy to navigate. Adjusting settings such as game speed are quick to access and most interactions can be done within a single click. The game provides a simple To-Do list just in case the player needs a quick reminder of where they left off.
Also, instead of needing to cycle through a growing list of tools (such as a watering can, seeds, etc.), the player simply interacts with the object and selects an item from their backpack (if necessary) or Tara will pull out the right tool. This was a refreshing change from the usual arsenal of tools that can often take forever to scroll through.
It was definitely hilarious to see Tara pull an ax out of nowhere and start chopping away at a fallen log. We don't know what kind of pockets she has in that dress, but we're here for it! 💪
2. Entertaining, Relatable Characters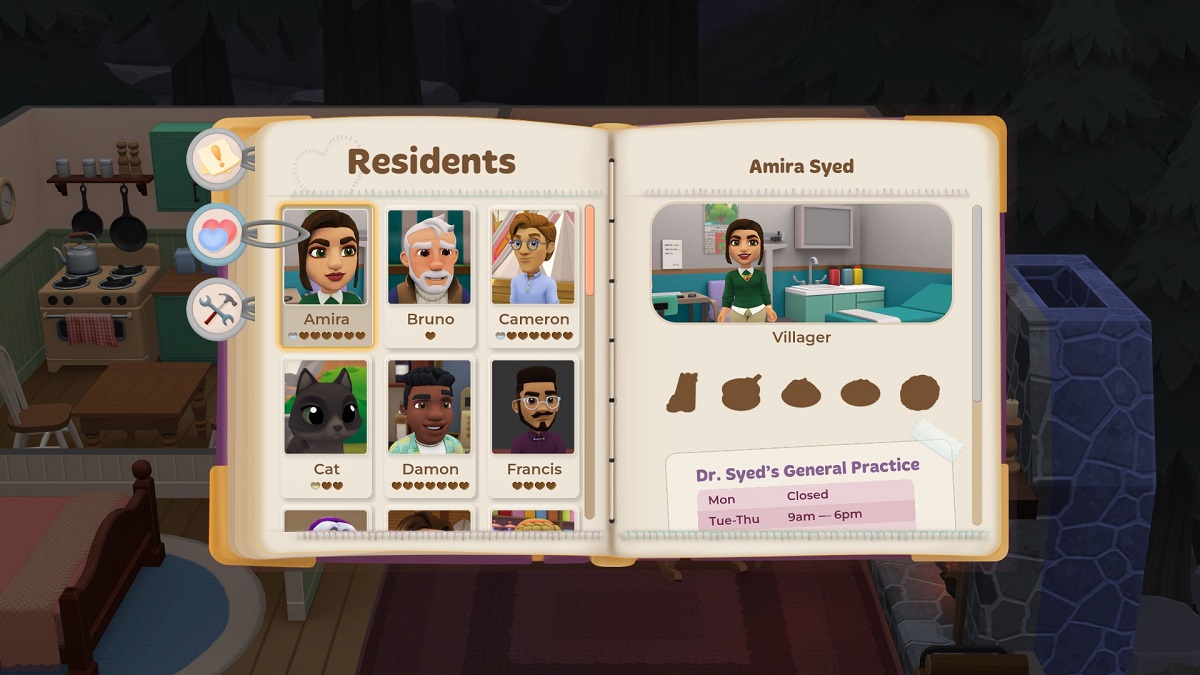 A significant part of what makes Wylde Flowers so entertaining are the 30 characters you get to interact with and get to know.
When interacting with characters, you get the chance to accept/turn-in quests, purchase items (if the character is a vendor), or just simply chat. It appears that while some dialogue will be pre-determined, there are chances for multiple-choice dialogue. Each time Tara interacts with a character in a meaningful way (such as turning in a quest), you'll receive a heart update in the top, left-hand corner of the screen. 💖 From what we saw, it looks like the max amount of hearts currently (at least for non-bachelors/bachelorettes) is three hearts.
Each resident of Fairhaven has their own unique personality that is showcased not only in the way they talk but also in how they dress (and even walk!) For example, while some characters walk with a swagger, others in high heels walk with a shortened gate and swiftness. 🚶‍♀️
3. Fully Voice-Acted, Cinematic Dialogue
One of the most surprising features of the Wylde Flowers demo was the fully voice-acted dialogue.
Unlike similar games that prefer to use text bubbles, Studio Drydock chose to invest in voice-overs for every character alongside captions (and the acting is pretty good!) This makes Wylde Flowers stand out against other life sim games, as it was refreshing to sit back and listen as the dialogue unfolded. By default, dialogue in this video game continues without the need for the player to "press next."
However, if you're a bigger fan of reading or prefer manually clicking through dialogue, this game has you covered! There are options to turn off the voice acting and/or require interaction to prompt the next line of dialogue.
4. Stardew… but with witches. 🔮
Wylde Flowers has taken many aspects of similarly cozy games such as Stardew Valley, Animal Crossing, and Cozy Grove and put a magical, unique spin on the classic gameplay elements.
Throughout the demo, we're given the opportunity to cook, plant, craft, buy and sell from vendors, and forage. While not attainable in the demo, mining (and maybe some light combat?) will be another significant part of the gameplay.
On top of that, we get a brief glimpse into Tara's witches' sanctum, wand capabilities, and the Fairhaven coven. We're excited to see how magic, spellcasting, and potion-making will enhance the current game mechanics! Perhaps it can be used for combat? Lift abnormally heavy things? The possibilities are endless.
5. Immersive Details Where It Counts
While Wylde Flowers might look like a more simplistic, mobile-style game at first glance, Studio Drydock did an amazing job at injecting immersive details where it counts. And yes, you're eyes do not deceive—you can pet the cat. 🥰
This attention to detail can be seen in the unique walking style of every resident, the bounce of Tara's hair as she runs, and even the magical sound effects that cheer on your accomplishments. Wylde Flowers provides a substantial map with a host of different areas to explore, as well as a large assortment of stores to visit including a bakery, jewelers, grocery, florist, and more!
Conclusion
There we have it! Wylde Flowers is an up-and-coming farming video game with a cozy spark, promising detail, engaging characters, and relaxing gameplay. We hope you're as excited as we are for the soon release of this slice-of-life sim. Until then, check out the free Wylde Flowers demo now available on Steam and subscribe to my blog for updates on more cozy, witchy content!
Bonus Screenshots 📸
Did you find this helpful?